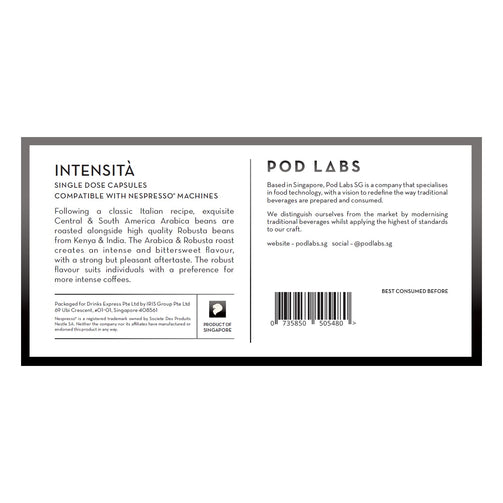 Pod Labs Nespresso Compatible Intensità (10 Capsules)
Pod Labs Nespresso Compatible Intensità (10 Capsules)
Regular price

Sale price

$6.99
Tax included.

High quality Arabica & Robusta beans are sourced from South America, Africa & India

Roasted in Italy

Medium bitterness, mild sweetness and aromatic crema

All natural, no additional flavour enhancers and preservatives added

--
Strength – 5 out of 5

100% Arabica beans from Central and South America are roasted medium-dark in Italy. We chose this method of roasting after visiting Italy and it's safe to say the Italians are probably the foremost authority on espressos and espresso beverages. As such, we want customers to enjoy this Italian Roast without physically being in Italy. The espresso shot has delicate floral, fruity aromatic notes and is high on sweetness but low on bitterness.

Based on our own experimentation, pairing a 40 ML espresso shot to approx. 60 ML of heated milk makes a very balanced cappuccino. For a latte, increase the heated milk volume to 80 ML.

Pod Lab hack: Don't fret if you do not own an automatic milk frother (which you can also order from us!), a quick and convenient way is to heat your milk in the microwave for approx. 30 seconds on high.

Recommended use:

Flush the system – This ensures that the temperature of the water going through the capsule is optimal.

Insert capsule and select volume – Choose the espresso option (bigger cup icon) to get a 40 ML.

Watch the magic happen – Smell the fine fragrance. Extraction could take up to a minute depending on machine settings.

Add your condiments – Add heated milk to the espresso to create a milky drink.

Enjoy your beverage - Sit back and savour your coffee.

Couldn't load pickup availability