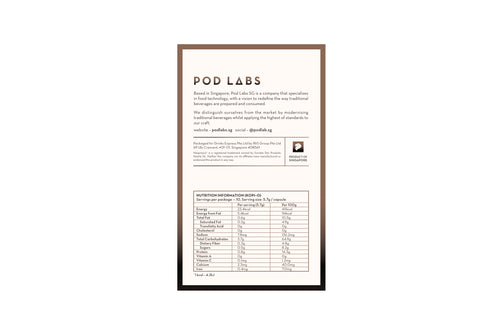 Pod Labs Nespresso Compatible Kopi-O (10 Capsules)
Pod Labs Nespresso Compatible Kopi-O (10 Capsules)
Regular price

Sale price

$6.99
Tax included.
The world's first Kopi-O capsule, developed after a year long R&D process.
Roasted according to a 30 year old traditional recipe
Produced in Singapore
All natural, no additional flavour enhancers and preservatives added
Roasted with plant based margarine
A smooth blend of fine South-American Arabica and South-East Asian Robusta beans are skilfully roasted in Singapore according to a traditional 30-year-old recipe. Ground and packed to precision, always ensuring a perfect extraction every time to provide that familiar kopitiam taste.
Strength – 4.5 out of 5 on the lungo option (approx. 100 – 110 ml depending on machine settings)
Increase the strength to 5 / 5 by selecting the espresso option twice to (approx. 70 to 80 ml. depending on machine settings)
Recommended use:
Flush the system – This ensures that the temperature of the water going through the capsule is optimal
Open and shake capsule – This helps to loosen the coffee powder for a perfect extraction
Insert capsule and select volume – Choose lungo (bigger cup icon) once or espresso (smaller cup icon) twice for a stronger cup
Watch the magic happen – Smell the fine fragrance of the kopi. Extraction could take up to a minute depending on machine settings
Add your condiments – Go sugar free or sweeten the kopi-o with sugar / condensed milk
Enjoy your beverage –Sit back and savour the coffee!
Couldn't load pickup availability