Nespresso® Compatible Capsules
16

products
Showing 6 of 16 products on Nespresso® Compatible Capsules collection
NESCAFÉ® Dolce Gusto® Compatible Capsules
7

products
Showing 6 of 7 products on NESCAFÉ® Dolce Gusto® Compatible Capsules collection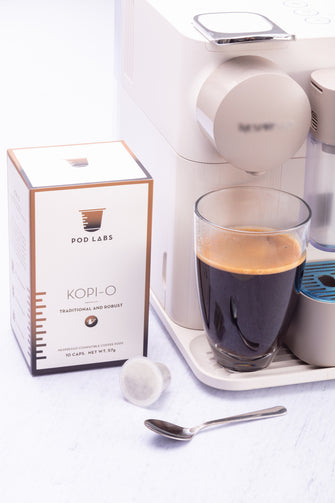 A Different Approach To Coffee Capsules
Our team loves to rethink traditional ways of doing things. The market is flooded with alternative Nespresso® flavoured capsules, but we couldn't find anyone making Kopi-O capsules. We pitched our idea to Enterprise Singapore, managed to successfully get a SG Founder Startup Grant and joined the NUS Enterprise Ecosystem. We went on to develop other flavours like Teh-O, Thai Tea etc and hopefully more flavours in the near future!


About Us
THE BRAND STORY
Founded in Singapore, Pod Labs is a brand that serves ready-to-drink beverages in capsules for homes, offices and restaurants.
The business was brewed up as an alternative to western offerings across the Nespresso® and NESCAFÉ® Dolce Gusto® range. Today, Pod Labs has been increasing its product range to include iconic Asian flavours like Kopi-O, Teh-O and Thai Tea, and seeks to continuously expand its flavour range.
Our Partners: 
MANUFACTURING
All of our capsules are manufactured in Ubi, which is the heart of Singapore manufacturing. Our manufacturing facility is certified and audited by the Singapore Food Agency and has various ISO certifications.